A Selection of Canadian Pacific Heavyweight Sleeping Cars
Configuration = 8 Sec - DRm- 2 Cpt
Pullman/CPR "EXPLORER"

PHOTO: Dave Shaw
1929 built by Pullman, Lot # 6261, for assignment on the "SOO-DOMINION" & "MOUNTAINEER", plan # 3979A, heavyweight steel, length over buffers = 83 ft 6 in, length in side = 73 ft 10 in, lighting = electrical, electro mechanical air (added)
1948 acquired by CPR, leased to Pullman, original name. Other Pullman cars acquired by CPR, were CENTALPINA, MOUNTAINEER, RANCHER, and TRAPPER
1955 lease expired, assigned regular CPR service
1959 rebuilt WS # 411250
1985 retired
Canadian Pacific "R" series
1929 built CC&F (lot # 791)/CPR Shops, E.O.# 2497, heavyweight steel, length = 75 ft 6 in. 29 cars were built in this series, including RAPID CITY, RATHWELL, RAVENSCRAG, RAYMOND, RED DEER, REDCLIFF, REDVERS, REGENT, REGINA, RENNIE, RENOWN, RESTON, REVELSTOKE (1954 renamed RIPPLES), RIVERTON, ROBLINDALE, ROCANVILLE, ROMFORD, ROSEMARY, ROSEMERE, ROSENFELD, ROSETOWN, ROSSLAND, ROSSPORT, RUBY CREEK, RUSKIN and RUTHERGLEN.
1936 air conditioned
1952/53 modernized, sealed window sashes, painted interiors
"RENFREW"

PHOTO: Dave Shaw, Vancouver, July 19, 1947 before the car was modernized
1952/53 # 11610 added to name.
1971 - retired
1973 acquired "OWL & ENGINEER RESTAURANT" Scott Rd., Surrey, B.C. (restaurant name has changed several times). Car side cutaway but interior still intact, with sleeping rooms used for small parties.
"ROCANVILLE"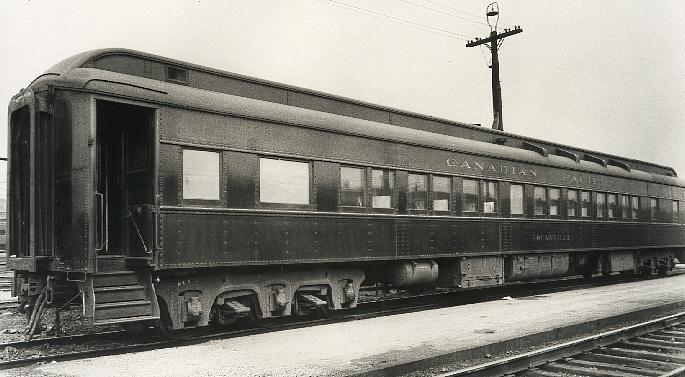 PHOTO: Web Master's collection, pre modernized. Note the changes in the photo below

1952/53 # 11618 added to name.

1971 retired

1988 acquired ACQ WEST COAST RAILWAY ASSOC

.

"ROSSER"

PHOTO: Dave Shaw, Winnipeg, Man. October 12, 1963 shows a modernized "R" class sleeper. Modernization included moving the Drawingroom's annex mid car allowing the placement of 2 picture windows for the occupant's viewing pleasure.

1952/53 # 11624 added to name.

?? 1971 scrapped ?? - listed as such by CPR

1980's (early), car stored New Westminster, B.C.

1988 acquired ACQ WEST COAST RAILWAY ASSOC

.

"RICHFORD"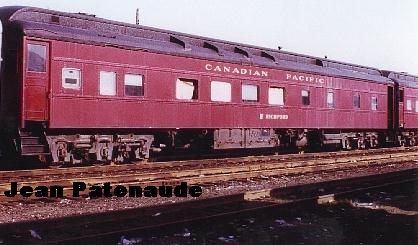 PHOTO: Jean Patenaude, A rather derelict sleeper awaits the bone pile
1952/53 # 11614 added to name.
1975 sold for scrap
ADDED: Thursday, March 23, 2000